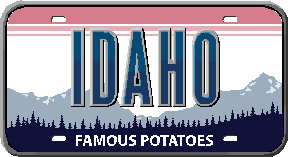 No communities. Please check back later.

There are only one and a half million residents in Idaho, a sparely populated state. The lowest temperature Idaho experienced was minus 60 degrees and the highest was 118 degrees. Meriwether and Clark explored here in 1805 and 1806 when it was part of the Oregon Territory. Great Britain was part owner until the Oregon Treaty in 1846. Mormons established the first real settlement in Idaho in 1860, at Franklin.

Gold was discovered in 1860, at Orofino Creek, and the rush was on! Prospectors swarmed, had a great time, then left ghost towns in their wake. During the 1870s, settlers, the U.S. forces, and Bannock, Sheepeater and Nez Perce bands of Native Americans battled it out. Lumber and mining have remained important to Idaho, and it has major exports of antimony, silver, cobalt, lead, garnet, vanadium, phosphate rock, mercury and zinc.

Agriculture is big in Idaho and they grow one quarter of U.S. potatoes, along with sugar beets, barley, corn, apples, wheat and hops. In the 1990s, Boise saw major growth in high-tech industry. Now, winter sports and tourism makes more money than any other industry. Idaho has numerous and beautiful lakes and streams, providing many boating, camping and fishing opportunities.

Some of the many activities and attractions that draw visitors from across the world, include golfing, swimming, skiing, as well as Nez Perce Natl. Historic Park, Craters of the Moon Natl. Monument, the Sun Valley resort, Hells Canyon, and the Birds of Prey conservation area, which is South of Boise.
---