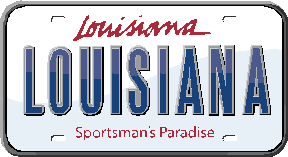 England Oaks, Alexandria, Louisiana

Alexandria is in central Louisiana and is the site of England Oaks, a 55+ duplex community with single story homes for lease. Lanes are shady, and the neighborhood is peaceful.

Pelican Point, Gonzales, Louisiana

Gonzales is in southern Louisiana and is the setting for Pelican Point, an elegant, all ages community with a 55+ enclave called the Greens. Single family and attached homes are for sale, and HOA fees are reasonable. Amenities include two golf courses, a restaurant and a bevy of activities.

Louisiana

A very rich and colorful history permeates this state. Pineda explored here in 1519, de Vaca in 1528, and de Soto in 1541. Sieur de la Salle of France got to the mouth of the Mississippi and promptly claimed it, as well as the surrounding area, for Louis XIV in 1682.

This state became a French colony in 1731 but it went over to Spain after the French & Indian wars in 1763. British troops grabbed the part east of Mississippi in 1764. It all went back to France in 1800 then was sold by Napoleon to the U.S. during 1863. The Southern part of the area, which had been known as the territory of Orleans, became Louisiana during 1812. Louisiana did join up with the Confederacy during the Civil War, but was captured by Farragut in 1862. The standard of living improved during the turn of the last century, because of natural gas and oil discovery and growth.

The state leads in salt, petroleum, sulfur, and natural gas. A lot of the latter is produced from offshore wells. Louisiana also grows a lot of sugar cane, rice, sweet potatoes, corn, soybeans, pecans and cotton. New Orleans is a major draw, with its colorful history and Mardi Gras. This huge celebration, known as Fat Tuesday, has been held in the city since 1838. Visitors also love to look at the Superdome, plantation homes, Cajun country, as well as the state capital of Baton Rouge. Hurricane Katrina and a weak levee killed more than one thousand people in the state, in 2005.
---