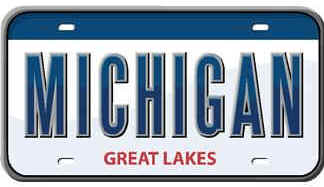 No communities currently. Please check back soon.
The population of Michigan is about 10,121,000 and its highest recorded temperature was 112 F, with minus 51 being the lowest. Native Americans lived in the area when the first Europeans arrived in 1618. The first settlement was created in 1668 at Sault St. Marie. Great Britain booted out France in 1763, after the Indian & French Wars. The U.S. got most of the region after the Revolutionary War, but there was constant conflict between the British and Americans, and both sides' Indian allies, until the end of the War of 1812.
Michigan has borders on four of the Great Lakes and is divided into two parts -- Upper and Lower. The Mackinac Bridge connects these two halves and it is one of the world's longest suspension bridges. Up North, the Sault St. Marie canals connect Lake Superior and Lake Huron. Michigan is first in the U.S. for motor vehicle and parts production, and leads in other areas like machine tools, cereals, refrigerators, airplane parts, furniture and hardware.
Michigan mines large quantities of copper, iron, gypsum, iodine, bromine, lime, salt, gravel, and cement. On farms, they grow beans, apples, cherries, potatoes, grapes, pears, and sugar beets. Michigan's forestry industry provides many jobs in the wood product, recreation and tourist arenas. It has over ten thousand lakes and more than 3,200 miles of Great Lakes shoreline. Visitors and residents flock to Michigan's prime sport and commercial fishing venues.
Automobile plants in Detroit, Dearborn, Lansing, Flint and Pontiac are of interest, along with Greenfield Village (Dearborn), Summer resorts along lakes and the Great Lakes, Pictured Rocks, and Sleeping Bear Dunes (national lakeshores).
---