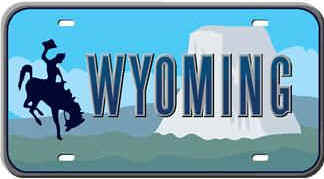 Powder Horn, Sheridan, Wyoming
Sheridan is in north central Wyoming and is the site of Powder Horn, an all ages community that appeals to baby boomers and retirees. It has a beautiful setting, a variey of home styles, a 27 hole golf course, tennis courts, a restaurant and more.
Cedar Springs Meadows, Thayne, Wyoming
Thayne is in western Wyoming's pretty, high altitude Star Valley and is the location of Cedar Springs Meadows, a spacious 55+ single family home and town home community. Dwellings have the slight feel of a ranch house, and amenities include walking paths and trout ponds.
Wyoming
This state is fairly lean on population and is home to only about half a million people. Wyoming land was bought from France by the U.S. as part of the Louisiana purchase. This happened in 1803 and a fur trapper is the first European person to have entered the region. He explored Yellowstone in 1807 and then told everyone when he got back, about all of the hot springs and geysers. The Oregon Trail was pioneered by Robert Stuart and it went across Wyoming in the early 1800s. Ft. Laramie was a trading post and Western Wyoming was purchased by the US in the 1846 treaty with Great Britain, called the Oregon Treaty.
As the Wyoming territory was created in 1869, women here were the first allowed to vote in the nation. Nellie Tayloe Ross was the first woman governor in the entire country, in 1925. There's a lot of spectacular scenery in Wyoming as well as grazing lands for cattle and sheep, and the state is very rich in mineral deposits as well as dinosaur bones. Natural gas and oil production is the most important industry in the state and Wyoming has the biggest deposits of sodium carbonate in the world. It also has the second biggest deposits of uranium in the U.S.
Wyoming is second only to Texas in wool production. It has 1,400,000 cattle and principal crops include sugar beets, oats, wheat, barley, corn, and alfalfa. There are many attractions for tourists here, including Yellowstone National Park, Grand Teton Natl. Park, Jackson Hole, Cheyenne, Devils Tower, and Fossil Butte National Monument. The Devils Tower was featured in the movie Close Encounters of the Third Kind.
---